An Evolving Partnership
ATCO and George Gordon Developments Excited for the Future
Building long-lasting relationships between Indigenous communities and businesses brings tremendous opportunities for economic growth and development. It has become the hallmark of the way we do business, partnering in communities and building a shared future.
Recently, ATCO Frontec and George Gordon Developments Ltd (GGDL) signed an agreement to pursue new site services contracts in Saskatchewan, although this is not the first time our two groups have worked together. 
This collaboration first began in 2011 as a joint venture between ATCO Structures & Logistics and George Gordon First Nation (GGFN) to pursue the construction and operation of the BHP Jansen Discovery Lodge, a 2500-person workforce camp near the town of Jansen, Saskatchewan.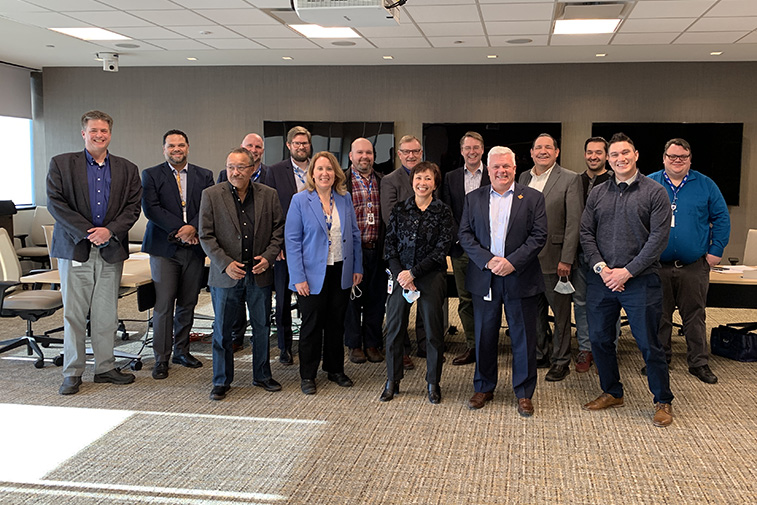 For GGFN it was a positive introduction to partnering with Industry, as ATCO was awarded the contract to build and operate the facility, providing training, employment, and subcontracting opportunities to Nation members.
Over the last decade the partnership has changed, and exciting new projects are on the horizon.
"The partnership with ATCO Frontec and GGDL is an evolution of the longstanding relationship that was originally formed to construct the BHP Jansen Discovery Lodge," says Daniel Cyr, Board Chair, George Gordon Developments Limited. "The restructuring, which includes a 51% share for George Gordon, ensures economic profits, management positions and supply chain opportunities."
"As we look towards the future, we're encouraged by the opportunities that our people will benefit from as projects develop in our traditional territories," says Glen Pratt, CEO of GGDL.
One such benefit is a new Management Training Program, where two GGFN members are currently training as Assistant Managers at ATCO Two Rivers Lodge in Fort St. John, BC. Upon contract award for the camp operations at Jansen Discovery Lodge, they will transfer to management positions there. We also have other Saskatchewan-based employees who are working in Fort St. John who will also be able to transfer back.
"We believe delivering essential skills training is the key to building capacity in communities," says Tanya Rexin, Indigenous Relations Manager, ATCO Frontec. "Our Kitchen and Housekeeping Skills Program has been very successful in preparing individuals for working in a camp, and we are planning new sessions in the near future."
Additionally, ATCO Frontec is an Aboriginal Procurement Champion through the Canadian Council for Aboriginal Business, offering many supply chain opportunities for Indigenous-owned businesses. 
The future looks bright for our two organizations as we enter a new era filled with possibilities.
For more information on the next ATCO Skills program, reach out to our Indigenous Relations team.