Serving up opportunities and confidence with ATCO Kitchen Skills program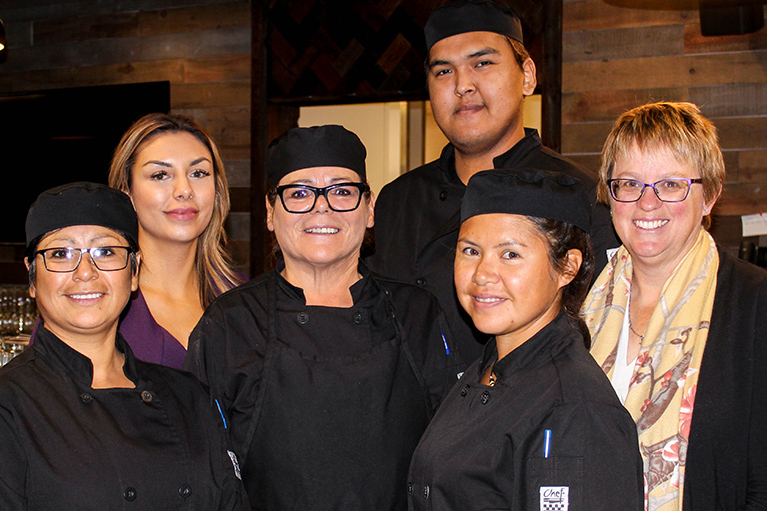 Achieving. Thriving. Communicating. Overcoming Obstacles.
ATCO.
These are the four pillars that have united the candidates in our ATCO Kitchen Skills program at the Two Rivers Lodge last week. Together they developed their own brand values to guide them through the program and beyond.
The Kitchen Skills program was developed to work with our Indigenous partner communities to bring valuable career and life skills to participants, and potential employment opportunities at an ATCO lodge. Lodge Manager, Brian Hussain believes this is an invaluable program.

"We as a business want to help the local community by assisting workers learn valuable, employable skills and that they can have fun within the work environment."

Chef Robert Varga is leading the program at Two Rivers Lodge, teaching candidates everything they need to know about working in a camp kitchen. His mentorship and insight on what it takes to become a Red Seal Chef has given them the confidence and skills to embark on a career in the culinary field.

"It's a good opportunity to get more kitchen training and skills to obtain future employment," Kim told us.

For many participants, this a completely new field for them. "I am nearly finished my electrical Red Seal certification," says Tawny. "I thought this would be a good opportunity to look into a second Red Seal in the culinary field."

The program also had participants spending time with Essential Skills instructor, Suzanne Pederson. Her training program focuses on a combination of essential and employability skills. Team building, team work and safety were key learnings, according to Kim.

"I learned the fundamentals of keeping a job and having a healthy relationship with my co-workers," says Charlie.

At the end of their training, candidates put their new skills to the test, serving a breakfast feast for representatives from BC Hydro and guests.

We're proud of these new graduates and what they've accomplished over the last week is inspiring.

"This has taught me to believe in myself," says Sherryl. "I'm braver than I think, more talented that I know and capable of more than I can imagine."