Forging a rewarding career path at Frontec
Employees given opportunities to learn and grow into new roles
For Samiah Alawi, working at ATCO Frontec runs in the family. Over the years, three out of six of her siblings have worked with us.
"My sister is actually the reason I was interested in working at ATCO," explains Samiah. "She constantly raved about her job and the company, so I decided to apply."
The rest, as they say, is history. From starting out at the front desk to later joining the finance team, Samiah has been promoted to several different roles including assistant lodge manager, since becoming an ATCO employee in 2014. Following her interests and goals, she is now a member of the HSE, Quality and Training team, taking on the role of Training Advisor.
We want to create opportunities for employee growth, and Samiah's storied career path is a perfect example of this.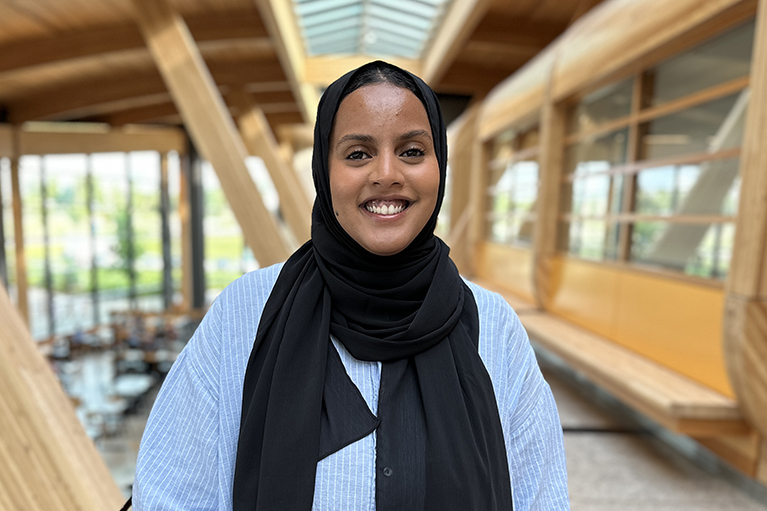 "Senior management has always pushed me beyond my limits to excel and try different jobs that take me out of my comfort zone," says Samiah, noting problem solving, communication, and business etiquette as some of the valuable skills she has learned while at ATCO. 
Our employees value the welcoming environment and diverse workplace we're creating. "Being accepted regardless of race, beliefs or color is important," Samiah highlights.
"When a workplace is inclusive, it improves employee retention, the ability to foster new ideas, and offers a healthy company culture," she continues, while adding that she feels like her opinions are valued, allowing her to have the courage to express freely.
If you are thinking about working with ATCO Frontec, Samiah Alawi has two words for you, "just apply."
"It's a lot of hard work, however, it's rewarding. It's hard to find a workplace that you enjoy going to every day, but I am proud to work for ATCO."
For more information about working at ATCO Frontec, visit our careers page.