Outstanding Achievements in Quality and Safety
Two Rivers Lodge Eyeing Fourth ISO Certification
Original story November 2020. Updated March 17, 2022
Just 18 months ago we were celebrating with the ATCO Two Rivers Lodge team as they achieved their ISO 9001:2015 re-certification. Enduring two years of pandemic and the challenges that come with operating a large housing facility, the team hasn't slowed down. They continue to excel, most recently recertifying their ISO 14001:2015 Environmental Management Systems. 
It's an outstanding achievement, fulfilling the requirements for enhancing our environmental performance.
Two Rivers Lodge Facility Manager, Brian Hussain, is especially proud of his team as "ISO certifications are a coveted, internationally recognized standard for the quality management of businesses, developed by the International Organization for Standardization. Achieving these certifications demonstrates that our lodge has several robust management systems in place that are applied to anything from environmental standards to food preparation to accounting."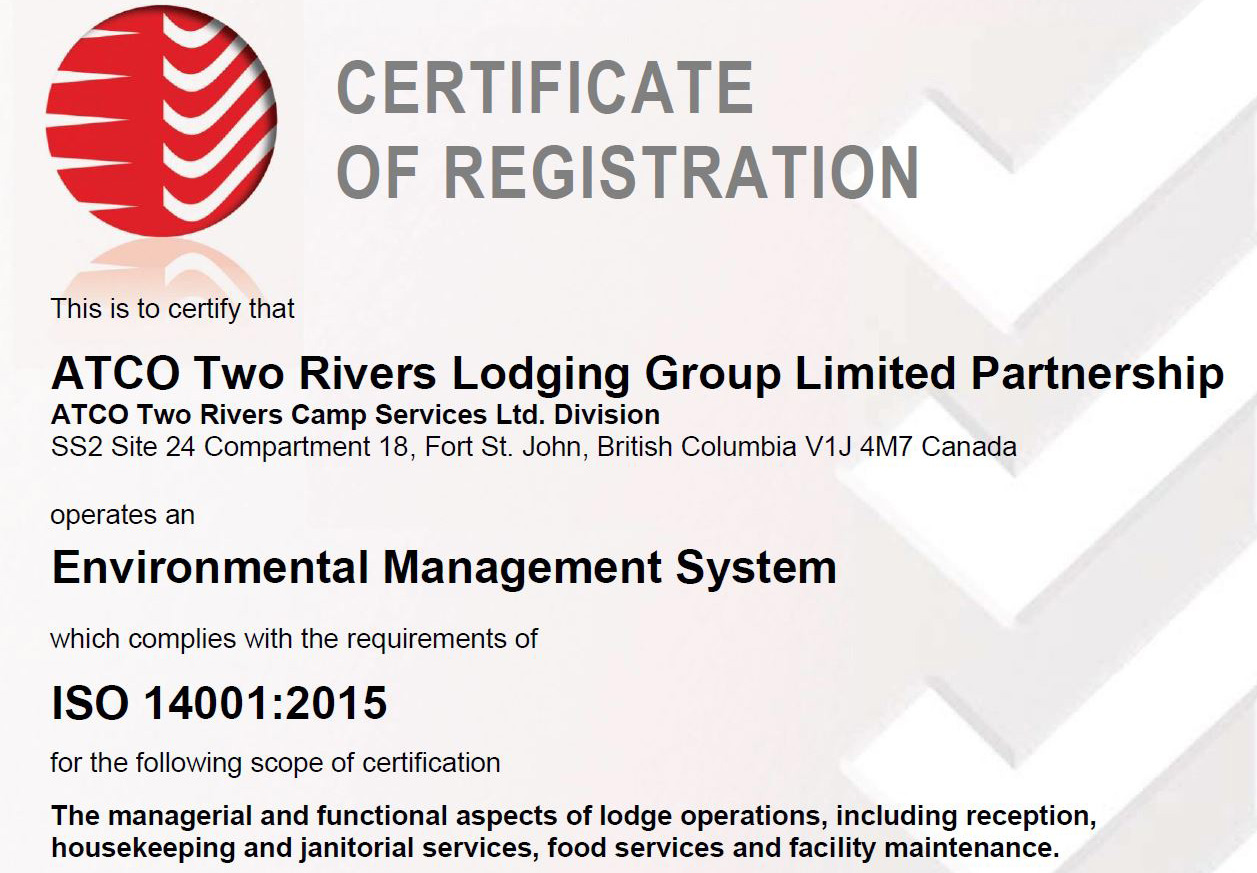 A Growing Quality Portfolio
Over the past few years we've been building our portfolio of quality assurance certifications, which takes dedication and time. The journey began in 2017, when they achieved their first ISO 9001:2015 Quality Management Systems certification, creating systems and developing Standard Operating Procedures (SOPs) that cover all aspects of operations. These SOPs go above and beyond what's expected by municipal, provincial, national and international trade standards for accommodation and food services.
Feedback from guests is systematically collected, analyzed and acted on to improve our standards and to consistently deliver high quality services to clients. 
Certifications:
ISO 9001:2015 Quality Management Systems
ISO 14001:2015 Environmental Management Systems - manage environmental and sustainability responsibilities.
ISO 22000:2018 Food Safety Management - identify and control food safety hazards in the facility. 
In 2022 they're pursuing their ISO 45001:2018 Occupational Health and Safety Management systems, enabling us to guarantee safe and healthy workplaces through preventing workplace injuries and ill health to the highest standard. 
A SOLID FOUNDATION FOR PANDEMIC RESPONSE
These systems laid a solid foundation for our COVID-19 response. Our strong safety protocols provide stability for our employees, clients and guests, who are confident in our response to the pandemic. As many other camps across Canada were forced to close or drastically cap occupancy, Two Rivers Lodge was able to safely keep their numbers at a consistent level. A beacon of responsible planning for health and safety, they're doing a consistently fantastic job of providing the highest quality services and safety standards.
Celebrating Achievements (Pre-Covid photo)

Quality certifications for standards, right down to cleaning the floors

Food Quality and Safety is a high priority