ATCO operating health screening checkpoint at Canada-US border
Supporting Alberta's Pandemic Response
ATCO Frontec is pleased to support Alberta's pandemic response efforts through a contract with the Government of Alberta to provide a new health screening checkpoint as travelers cross the border from Montana into Alberta. 
Coordinating with Alberta Health, Alberta Transportation, Alberta Sheriffs and the Canadian Border Services Agency, we will be operating the COVID-19 screening checkpoint to the north of the Coutts Port of Entry. ATCO is providing the command and control organization, medical screeners and logistic services. The checkpoint is scheduled to operate until September 30th, 2020.
"Our ongoing commitment to assisting communities and governments at all levels with the recovery from the pandemic begins with prevention, ensuring that COVID-19 does not travel across borders unchecked," says Nick Sealy-Thompson, Director, Disaster & Emergency Management at ATCO Frontec.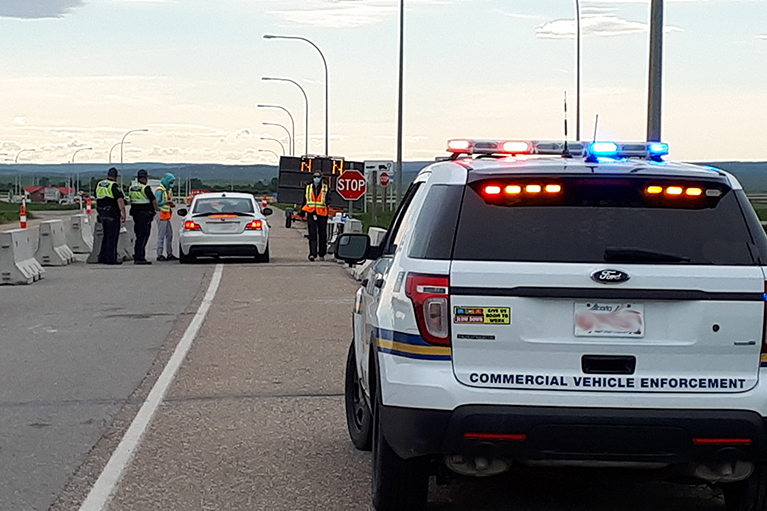 Non-commercial travelers will have their temperature taken, undergo a short visual health inspection, and be required to submit and confirm their mandatory 14-day isolation plans. With a rotating team working 24/7, traffic across the border is kept flowing smoothly, with minimal interruptions to travelers. 

Our experienced Disaster and Emergency Management team is managing this opportunity to serve Albertans through this pandemic. Prioritizing safety is integral to our ATCO culture and the chance to expand our work through serving the Government of Alberta is one we take seriously. As we see restrictions from COVID-19 being lifted, it's important to remain vigilant to reduce the risks of a new wave of infections.