Proudly Supporting Reservists as a Military-Friendly Employer
ATCO has a longstanding history of working with military partners across Canada, the Far North and around the world, delivering support services to the Canadian Armed Forces, Department of National Defence and to NATO operations in Eastern Europe.
Our strength in providing these services lies with our people, some of whom are veterans and reservists in our organization. We recently joined the With Glowing Hearts – Reservist Support Initiative through the Canadian Forces Liaison Council (CFLC), as a military-friendly employer.
Judy Au, Senior HR Manager with ATCO Frontec, sits on the board for the CFLC Alberta, and sees the program as an opportunity to better understand this branch of one of our key customers and employee base.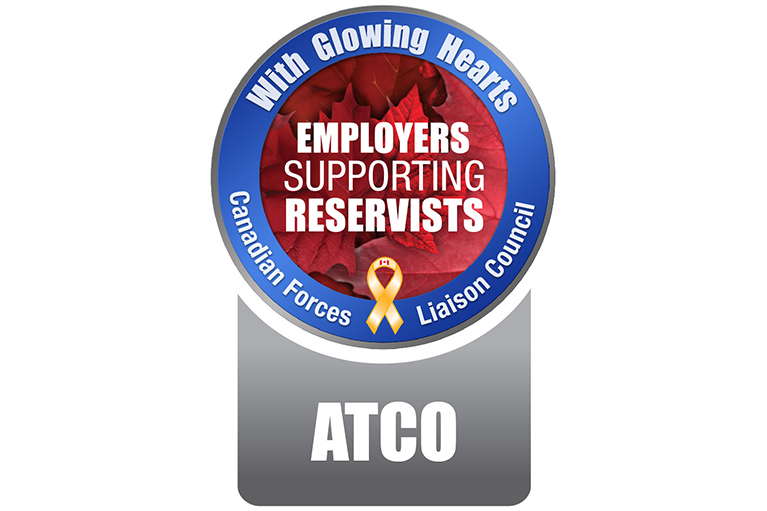 "I'm impressed with the quality of training reservists undertake regularly and how that development enhances their ability to perform on the job at ATCO," says Judy. "They regularly demonstrate Frontier Spirit, agility and a service-first mentality."
Our Director, Disaster & Emergency Management, Nick Sealy-Thompson, is the Senior Canadian Forces Liaison Officer for Alberta. In this role, he's responsible to advocate on behalf of reservists who need assistance with their employer to get leave for military training and deployment.
"A Liaison Officer streamlines communications and helps businesses understand how the military works in order to build symbiotic relationships," says Nick.
ATCO has a comprehensive Military Leave Standard in place for part-time soldiers, sailors, airmen and airwomen, providing an allocation of days leave per year, as well as topping up the employee's pay. 
Dan Burkowsky in Afghanistan

Dan Burkowsky supporting mechanical operations in Mali, Africa

Jordan Shephard at Calgary's Field of Crosses
A positive experience for reservists
Frontec employee, Sergeant Dan Burkowsky, has been a reservist for 18 years, and is currently an HVAC, Refrigeration and Gas technician at the Two Rivers Lodge. As an ATCO employee for the last five years, he's been deployed on three missions overseas (Iraq, Ukraine and Mali), as well as attended training through the Canadian Forces School of Military Engineering.
As a reservist, he looks after the mechanical and utilities section of 192 CEF Aldergrove, responsible for training and mentoring new members as well as apprentices and journeymen in the mechanical and utilities trades.
"ATCO has been one hundred percent supportive, every step of the way," says Dan. "From taking the time off, deploying overseas, repatriating back to Canada, and returning back to work, they were always there for me."
Jordan Shephard, a Senior Project Accounting Analyst with ATCO, joined the Royal Canadian Navy in University, and has been a reservist for 15 years. He says he's grateful for the support of the company when duty calls.
"My role is to provide musical support for all aspects of military life, including ceremonial parades, military graduations, and ship ceremonies. Locally I also support Remembrance Day Ceremonies, by coordinating buglers for services held across the city."
Acceptance to the CFLC With Glowing Hearts program demonstrates that an organization like ATCO understands and values the contribution that reservists make both to the defence of Canada and to the civilian organization for which they work. And we are certainly proud to be a part of it.